So I thought I'd bring short story Sunday back from the dead (hence the zombie theme). I really enjoyed analysing short fiction in a way that I don't have the time or space to do with longer fiction here and I'm struggling with two short pieces I'm writing at the moment so this might help get me in the right mindframe – spark something off so to speak. I'm not quite sold on Palahniuk. Fight Club is one of my favourite films, I'll watch it again and again and again and again and…. the book is as good as the movie, which is a surprisingly faithful adaptation of it. I read Invisible monsters which was good but had some really sickening moments and I read haunted which had an amazing premiss that just fell flat and ultimately got quite tedious.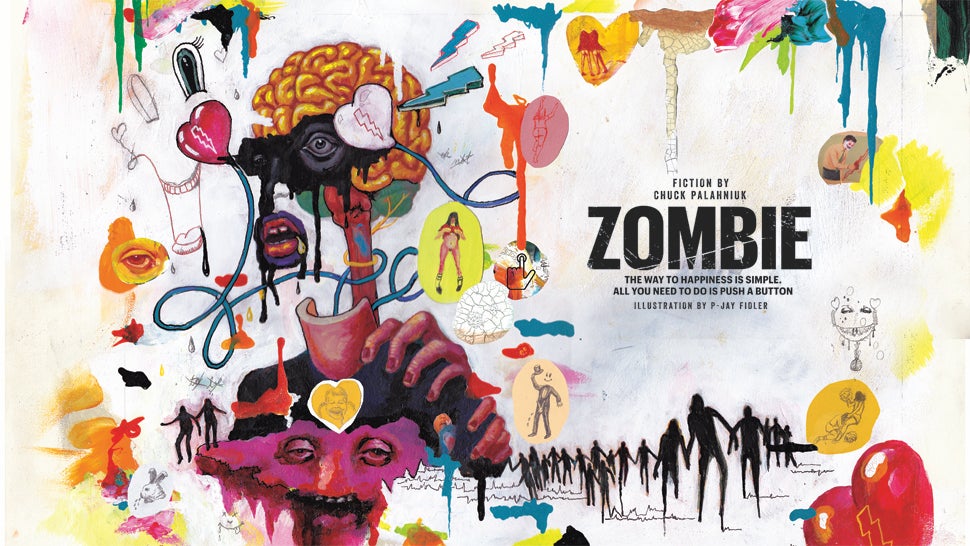 This story wasn't really about zombie's like I hoped (you know the way sometimes you're just in the mood for the undead?), but nothing's ever straightforward with this guy. Instead it's about a new craze amongst teens and young adults to attach a defibrillator to their temples and shock themselves into idiocy. It's kind of a painless but irreversible lobotomy. That way they don't have to deal with the pressures of modern life, they end up with terrible jobs and are completes morons and simpletons but they're happy. Rather than zombies traditionally hunting for brains and searching for brains to eat these guys are running away from brains, running from the pressures of everyday life and from the tragedies in the world and having to make decisions and take on responsibility and deal with things. I'd be lying if I said that kind of escape isn't occasionally attractive.
Plenty of Palahniuk's recurring themes also show up here – the dual destruction of the body and society echoing each other as well as the man child and infantile adults trying to recapture their youth as a way of rejecting society.
The ending of the story is a lot more hopeful and mature than I've come to expect from this man and to be honest I'm not sure if I liked it. The tone is not as rebellious as some of his other work and it seems almost like a lament for that kind of pigheaded rebellion for the sake of rebellion. It was missing something but overall it's a good story with a good ending. The major problem with the story is defibrillators don't work that way.  They won't shock unless they detect specific heart patterns and (according to brief internet research) basically the entire premiss is flawed. So while it's a good story, shocking your temples with a defibrillator just can't happen (never mind surviving as a happy moron to tell the tale)
Notable Lines: 'They continue to be young and hot but they no longer worry about the day when they won't be. It's suicide but it's not.'