I. Want. One.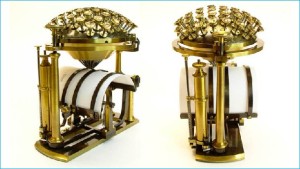 I just discovered the Malling-Hansen Writing Ball and I have never wanted something as much in my life. It's so beautiful, and steampunk and just damn cool. It might take ten times longer but imagine writing a novel on a machine like this? It's one of many unusual typewriters out there, but by far my favourite.
Rasmus Malling-Hansen was a Danish inventor in the 19th Century. He reformed the Danish education system for teaching the deaf, he invented the writing ball (for which he won first prize gold Danish merit medal in the Scandinavian exhibition in Copenhagen in 1872), did extensive research into the growth rates of children and revised the writing ball that could type in colour and included a paper platen (in 1888 the revised device won first prize at the Art and Industry Exhibition in Copenhagen).
Nietzsche even wrote a poem about it:
"THE WRITING BALL IS A THING LIKE ME: MADE OF IRON
YET EASILY TWISTED ON JOURNEYS.
PATIENCE AND TACT ARE REQUIRED IN ABUNDANCE
AS WELL AS FINE FINGERS TO USE US."
(Friedrich Nietzsche, on February 16th 1882)
Unfortunately I couldn't find any videos of the writing ball in action, but imagine how cool would it be as a piece of art in your home, something to look at, be inspired by and, of course, something to play with. However after long hours of tracking it across the internet I could only find one for sale. Apparently it's incredibly rare, so the one I saw was being auctioned for $39,000.
So, I either need to find a replica, figure out how to solder, weld and just generally overcome my incompetence with construction, or learn to live with my four year old Dell laptop (which is missing the 'K' key and the battery). I think I'll have to stick with the laptop for now, but when I'm rich and famous…